Hybrid Conference Experience
Both days of HGC are available online wherever you are whilst day two is complemented by an offline experience (2G+ rules).
Insights from the Industry
Talks and workshops delivered by international speakers and our virtual expo full of new and interesting games.
Matchmaking & Networking
HGC22 offers meetings in person and via native video calls in our online multiplayer game.
The annual Hamburg Games Conference has been a permanent date in the calendar of the international games industry for over 10 years. As one of the most important B2B events for the games sector in Europe, 2021 saw the conference set new standards by taking online events to a new level. 2022 will continue to define new standards for hybrid conferences.
2 - 3 March 2022
The Next Multiplayer Hybrid Conference
Hosted in Hamburg, available to the World
While you can experience the entirety of HGC22 online, your business ticket also includes access to a physical gathering in Hamburg. If you are in the area or have wanted to visit Hamburg, now's your chance. See you there! Unless the regulations change, the event will be held in compliance with 2G+ rules.
Virtual Expo & Business Area
Are you looking to invest into great games from Germany and northern Europe? Find the perfect partner via virtual showcase and native video calls inside the browser experience. Matchmaking can be scheduled prior to HGC in MeetToMatch.
Streaming program
We will stream selected talks and panels about our main topic for 2022: Moving Markets. International speakers will provide the audience with insights and are available for Q&A.
What's Up 2022?
Moving Markets
The overarching topic in 2022 of the conference will be "Moving Markets". The games landscape is moving and evolving at a rapid pace, which is why we'd like to shed some light on key elements. Stay tuned to find out more on specific topics!
On 2-3 March, we offer content and talks for a large audience doing business in the games and media industry. All the way from students to CEOs.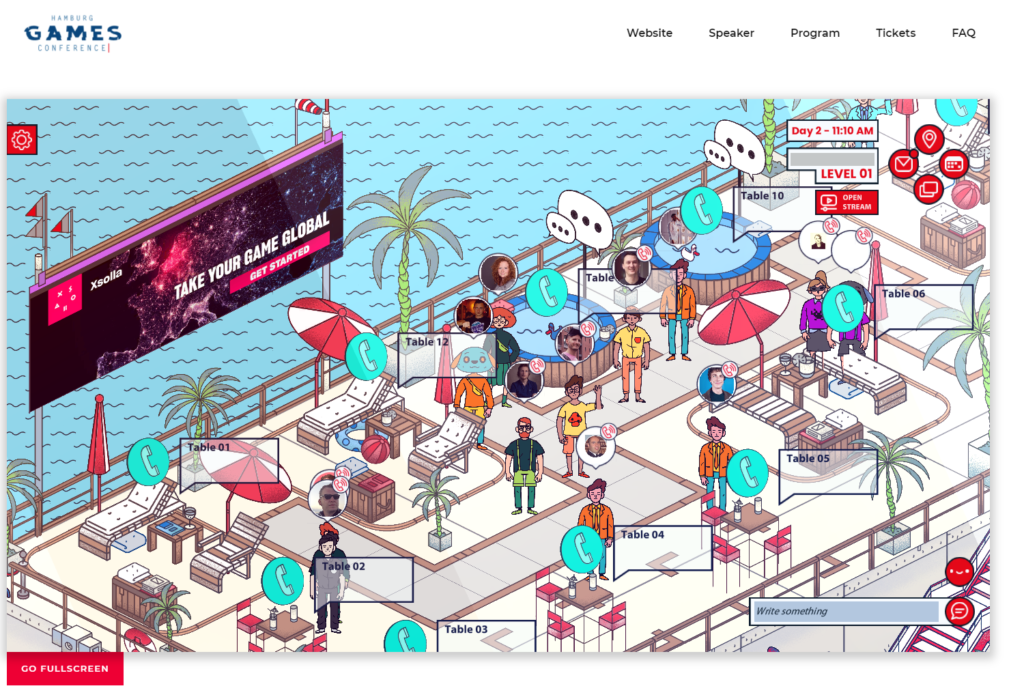 Basic or Business
Ticket Prices
We offer a BASIC and BUSINESS Ticket Option. If your only interested our stream program and want to visit this expo - Basic is perfect. If you're looking for investments then BUSINESS is your way to go.
Basic Ticket
Online Expo & Stream
Business Ticket
Videocalls, Matchmaking & Offline Business Area
Hamburg Games Conference | Pictures
Booth & Sponsoring Prices
This year you can book one of the few selected spots in our virtual EXPO. If your looking to market your products - EXPO is perfect. If you're looking for reaching your target audience, you should book a Sponsor Package.
BASIC Business Booth
Booth in virtual Expo
1x NPC (Chat Bot)
1x Videoscreen
1x Game / Product Showcase
Logo implementation
Backend access
1x Business Ticket included
1x Matchmaking Account included
PREMIUM Business Booth
Booth in the Virtual Expo
2x NPC (Chat Bot)
1x private Videochat table
1x Videoscreen
1x Game / Product Showcases
Logo Implementation
Backend access
3x Business Ticket included
3x Matchmaking Accounts included
OFFICIAL PARTNER HGC 2021
Logo placement:
HGC Website feature
In-Game Sponsor Wall Placement
Publication in print material
3x Business Tickets included
ADD ON - STREAM PARTNER
Logo placement:
Placement in conference stream
+ Trailer
+ 3x Business Tickets